"Hi, how are you?", "All good, busy… but almost weekend again". These are known phrases that start many conversation. Also remarks like "time flies", "they'll be grown-ups before you know" are often heard. Although these are cliché's there is some truth in them. This is specifically true for us with Froukje working irregular shifts and Joost often traveling for work. This is something we would like to break through, at least for a period of time, by making our dream come through… Walk the earth and touch the sky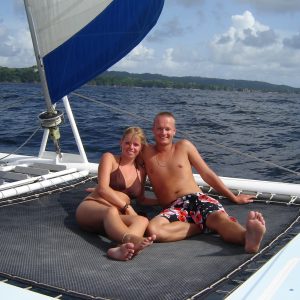 When we enjoy a day sailing trip on a catamaran in Tobago back in 2006 we experienced the day of our life. We sailed along the beautiful coast with a nice wind, we caught a fish on our way and dropped anchor in a amazing bay. As we were scuba diving the crew prepares the fresh fish on the BBQ and in no time we're enjoying an amazing lunch. This is an experience which stays in our mind for a long time.
In the years afterwards we travel to many other tropical places. We learn to dive and through this start to appreciate the beauty of the underwater world. A sail trip along some of the Greek islands confirms how great it is to travel by boat and explore new places. Slowly but surely our idea and dream starts to grow. For inspiration we've read some books of others that sailed the world by boat, i.e. Solo van Tania Aebi. It was clear that if we were to make this trip we wanted to do this as a family and luckily we were blessed with two beautiful girls. Read here more about us and our history together.
The trip
We want to sail the world with our boat for approx. 2 years. Leaving the Netherlands we will sail south past the UK or France towards Spain and Portugal. From there we will continue south west towards the Canary Islands, which will be our starting point of the Atlantic crossing towards the Caribe. Exploring the beautiful tropical islands will be a highlight during our trip before we cross the Panama channel to the Pacific Ocean. Sailing in this remote area we will be visiting beautiful Islands that only can be reached by boat. As we continue to sail west we will end up Australia and New Zealand, here we will decide to either sail further of fly home. Read here more details about our route.
Why?
There are many reasons to not do this trip, however in our mind more to do it. Some other sailors said this very well "to dare is sometimes losing your balance for a moment, to not dare is losing yourself". Some of the reasons
As our kids are still young we would like to extend the basis of being a close family through experiencing this adventure together. Growing up as a family and living together 24/7 in these important years of the development of our girls is something we think is highly valuable. We don't want to take them out of their social life the moment they start building this and therefore decided to do this before they go to school.
We want to explore the world, after all of our travel so far we now how beautiful it is and how little we get to see of her. With a sailboat as our home we can explore new places, cultures and get to learn new beautiful people.
We want to be outside, in nature, enjoy being on the water, travel with the wind and life on the rhythm of the sun. At the same time we want to reduce our dependencies on goods, internet, TV and go back to the basics.
Finally we want to life now, now that we're in the strength of our life and have the energy to make the most out of this trip.
This doesn't make it an easy to choice to leave. We will give up the some of the certainties we've got at the moment, more importantly we will miss being around our family and friends.  However we are not saying farewell and hope we can still see our loved ones on a regular basis, either in person or virtually. We will do this, the biggest difference between a dream and an adventure is taking the first step…